Collection:

Swig

If you're in the market for an insulated bottle or tumbler, you'll find a lot to choose from. There are cups and bottles targeted to sport-enthusiasts, outdoorsy types, and extreme adventurists, but as Tracee Mathes saw it, there weren't any for the average woman - the busy mom, girl on the go, or boss lady – who wanted an uber-insulated and ultra-cute drinkware option. That gave the life-long entrepreneur an idea.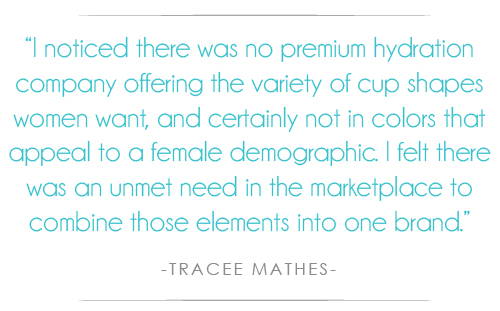 Mathes set out to meet that need in 2017 when she launched Swig Life™, offering premium drinkware with women in mind. The company's cups, tumblers and bottles rely on premium triple insulation technology, including vacuum-sealed, stainless steel double-walls with copper-coated linings, but what really sets them apart is their creative and eye-catching patterns, colors and designs. Mathes feels that a cup or bottle is a fashion accessory and personal style statement, much like jewelry, handbags and shoes, and this fashion-forward approach makes Swig Life™ a far cry from ordinary hydration vessels. Swig Life's unique patterns and finishes are available in a variety of shapes and sizes, and Mathes says all of Swig Life's products are geared towards busy, stylish girls, women and moms, no matter the time of day.
"It's fun to offer a product that is pretty to look at and that works great. They also make a perfect gift, and it just makes your heart happy when using one," said Mathes.

While men enjoy Swig Life's products too, the line remains at its core a female-oriented brand. Mathes says she plans to continue building a brand focused on the everyday woman who wants a stylish, well-made product for her on-the-go lifestyle. The company's branding is on-target for the female demographic they serve.

"I have always 'hustled.' At age 8, I sold puppies from a wagon in our neighborhood; at 12, I sold stationary door-to-door; in college, I started a custom gift-basket business; in my early 30s, I opened two retail stores; and now, at 45, I am still full of ideas! I have a master's degree in sociology with a focus on consumer research," she said. "I was a sales and marketing executive for two media companies before stepping out to open my first store and to follow my passion. I am a risk taker and I will work endlessly to make an idea work!"

Swig Life™ has quickly grown to employ 20+ amazing women and is currently hiring several more positions while also moving to a new corporate office location, since they have outgrown their existing one. Even before its launch, it was clear Mathes would be an entrepreneur to be reckoned with.
As for the future of Swig Life™, Mathes says she plans to grow the brand to include other types of hydration and insulation products with a goal of adding new categories to the line every six months. Swig Life™ also offers a custom printed division, Swig Swag, for companies and events that want to add their logo, and they're pursuing licensing deals with like-branded companies.

Mathes attributes Swig Life™'s loyal customer base in part to the company always putting customers first. They offer a complete refund to buyers who aren't completely wowed by the product - for any reason – as well as a one-year warranty on every item.
Mathes is a native of Richmond, VA. She attended the University of Richmond (Bachelors) and the University of Virginia (Masters). While Mathes' husband is not an employee of the company, he is deeply involved and supports business efforts. Their younger son attends 8th grade at a local private school and enjoys soccer, track and video gaming. Mathes' older son is grown and is pursuing his own passions. Tracee enjoys decorating, renovating – and drinking wine from a Swig, of course!